[vc_row css=".vc_custom_1554914176387{margin-top: 30px !important;}"][vc_column width="5/12″][vc_column_text]Like us on Facebook to pimp your social feed[/vc_column_text][/vc_column][vc_column width="7/12″][vc_raw_html]JTNDaWZyYW1lJTIwc3JjJTNEJTIyaHR0cHMlM0ElMkYlMkZ3d3cuZmFjZWJvb2suY29tJTJGcGx1Z2lucyUyRmxpa2UucGhwJTNGaHJlZiUzRGh0dHBzJTI1M0ElMjUyRiUyNTJGd3d3LmZhY2Vib29rLmNvbSUyNTJGc2N1YmFoaXZlJTI1MkYlMjZ3aWR0aCUzRDQ1MCUyNmxheW91dCUzRHN0YW5kYXJkJTI2YWN0aW9uJTNEbGlrZSUyNnNpemUlM0RsYXJnZSUyNnNob3dfZmFjZXMlM0RmYWxzZSUyNnNoYXJlJTNEZmFsc2UlMjZoZWlnaHQlM0QzNSUyNmFwcElkJTNEMjE1MjMzMjg5MTUxNjg4NyUyMiUyMHdpZHRoJTNEJTIyNDUwJTIyJTIwaGVpZ2h0JTNEJTIyMzUlMjIlMjBzdHlsZSUzRCUyMmJvcmRlciUzQW5vbmUlM0JvdmVyZmxvdyUzQWhpZGRlbiUyMiUyMHNjcm9sbGluZyUzRCUyMm5vJTIyJTIwZnJhbWVib3JkZXIlM0QlMjIwJTIyJTIwYWxsb3dUcmFuc3BhcmVuY3klM0QlMjJ0cnVlJTIyJTIwYWxsb3clM0QlMjJlbmNyeXB0ZWQtbWVkaWElMjIlM0UlM0MlMkZpZnJhbWUlM0U=[/vc_raw_html][/vc_column][/vc_row][vc_row][vc_column][vc_column_text]
Discover the marine biodiversity at the heart of Southeast Asia
[/vc_column_text][/vc_column][/vc_row][vc_row][vc_column][vc_empty_space][/vc_column][/vc_row][vc_row][vc_column][vc_column_text]Situated in the heart of Southeast Asia, Malaysia is an exciting destination with diverse cultures and traditions, complemented by tropical paradise, unspoilt islands and beaches.
Geographically located North of the equator, Malaysia comprises of two main geographical regions – West Malaysia (Peninsular), and East Malaysia (Sabah and Sarawak) – enveloped by the Straits of Malacca, South China Sea, Sulu Sea and the Celebes Sea. Not only that, it is part of The Coral Triangle, a biogeographic region recognised as the global centre of marine biodiversity.
Here's a snapshot of Malaysia's scuba diving resume:
Sipadan Island – Quite honestly requires little introduction. World-renowned steep walls bustling with activity. Plenty of whitetip sharks, green sea turtles, barracuda vortex.
Mabul Island – World's muck diving mecca. Sandy slopes with a treasure trove of critters like ghost pipefish, frogfish, flamboyant cuttlefish, mandarinfish, and no shortage of a myriad of nudibranchs.
Layang-Layang Atoll – Private atoll, popular for its schooling scalloped hammerhead sharks(esp during its mating season from months of April till May)
Tiga Island – Otherwise known as survivor Island, a locale where the US hit series "Survivor (season 1)" was filmed. It is also a dead volcano, famed for its banded sea snakes and volcanic mud spa.
Tioman Island – Rise to fame as early in the 70's when Time Magazine selected it as one of the world's most beautiful islands. Still captivating visitors with its warm beaches, bio diverse seas and lush rain forests.
Perhentian Island – popular among backpackers, featuring its famous "sugar wreck", a 80m (262ft) cargo ship which sank while bearing a load of sugar, now home to a massive abundance of marine life.
Check out the buffet of dive locations around Malaysia. Over 25 locations in excess of 100 dive sites for you to explore!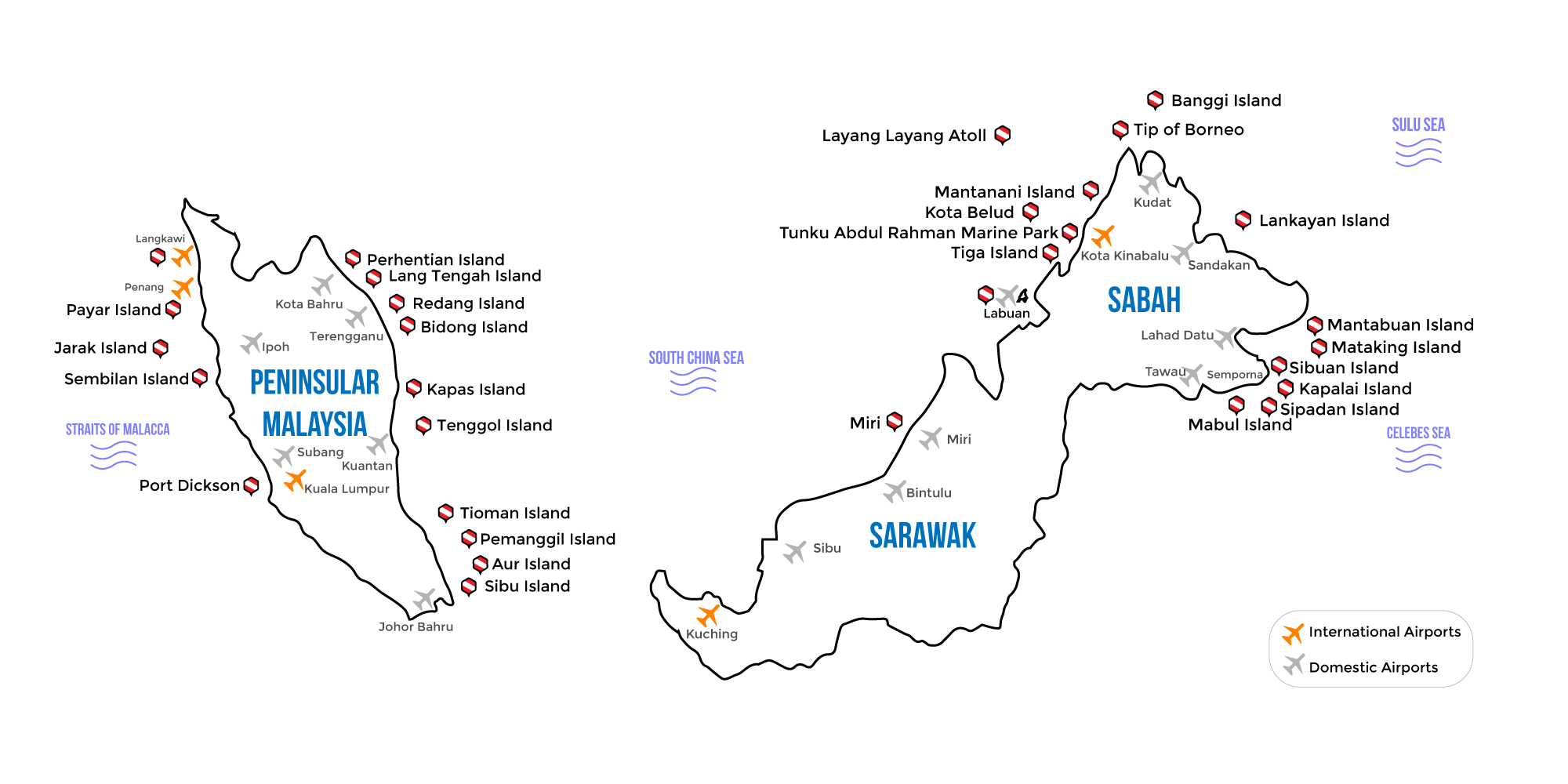 Now to the key stats:
Diving Type: Predominantly resort based with guided boat dives.
Rates: Varies – Packages depend on the type of lodging (backpacker to 5-star indulgence). Fret not, just get in touch with us, and we will have you sorted. We quote directly from the dive operators at no additional costs.
Level: All levels – from Open Water to technical diving. There's something for everybody!
Climate: Malaysia has an equatorial climate, being hot and humid throughout the year with average temperature of 29°C (84.2°F). Monsoon (wet and rainy) season typically runs from November to March.
Water Temperatures: Averages at a balmy 29°C (84.2F), although certain areas especially the northern tip of Sabah experiences a drop in water temperatures to as low as 24°C (75.2°F) in the earlier parts of the year.
Wear: A rashguard would satisfy most divers, but if you prefer to don on extra exposure protection, a 3mm neoprene wetsuit would suffice.
Visibility: 10m (32.8ft) to 40m (131.2ft)
When to go: Diving is largely available all year round in most regions of Malaysia except for the East Coast of Peninsular Malaysia and Sarawak whose annual diving season typically runs from March till November.
Peak Season: Typically during the European summer holidays (mid-June to late-August), and do keep an eye on public/state/national holidays as Malaysia is a haven for holidays.
Bonus: One of the highlights about diving in Malaysia is its accessibility to the dive locations. No traversing on gravel roads for hours just to reach a jetty. In some locales, you could go from your hotel in the mainland right to the islands within 15 minutes! Also, Malaysia is a developed nation where English is widely spoken, and where low-cost airlines abound, thus making it that much easier to travel.
From Malaysia's myriad of reefs teeming with marine life right down to its impressive walls and wealth of wrecks, scuba diving in Malaysia is truly as diverse as its culture. Check out Scubahive.com for a complete guide to every diving locale in Malaysia – Dive planning right at your fingertips. Oh yeah!
We believe no two dive adventures should be the same and a human touch can make all the difference. Thinking of getting certified? Or need a hand in planning your next dive adventure in Malaysia? Get in touch with us here :)[/vc_column_text][/vc_column][/vc_row]