[vc_row css=".vc_custom_1556941745851{margin-top: 30px !important;}"][vc_column width="5/12″][vc_column_text]Like us on Facebook to pimp your social feed[/vc_column_text][/vc_column][vc_column width="7/12″][vc_raw_html]JTNDaWZyYW1lJTIwc3JjJTNEJTIyaHR0cHMlM0ElMkYlMkZ3d3cuZmFjZWJvb2suY29tJTJGcGx1Z2lucyUyRmxpa2UucGhwJTNGaHJlZiUzRGh0dHBzJTI1M0ElMjUyRiUyNTJGd3d3LmZhY2Vib29rLmNvbSUyNTJGc2N1YmFoaXZlJTI1MkYlMjZ3aWR0aCUzRDQ1MCUyNmxheW91dCUzRHN0YW5kYXJkJTI2YWN0aW9uJTNEbGlrZSUyNnNpemUlM0RsYXJnZSUyNnNob3dfZmFjZXMlM0RmYWxzZSUyNnNoYXJlJTNEZmFsc2UlMjZoZWlnaHQlM0QzNSUyNmFwcElkJTNEMjE1MjMzMjg5MTUxNjg4NyUyMiUyMHdpZHRoJTNEJTIyNDUwJTIyJTIwaGVpZ2h0JTNEJTIyMzUlMjIlMjBzdHlsZSUzRCUyMmJvcmRlciUzQW5vbmUlM0JvdmVyZmxvdyUzQWhpZGRlbiUyMiUyMHNjcm9sbGluZyUzRCUyMm5vJTIyJTIwZnJhbWVib3JkZXIlM0QlMjIwJTIyJTIwYWxsb3dUcmFuc3BhcmVuY3klM0QlMjJ0cnVlJTIyJTIwYWxsb3clM0QlMjJlbmNyeXB0ZWQtbWVkaWElMjIlM0UlM0MlMkZpZnJhbWUlM0U=[/vc_raw_html][/vc_column][/vc_row][vc_row][vc_column][vc_column_text]
"If something doesn't feel right… walk away, find alternatives."
[/vc_column_text][/vc_column][/vc_row][vc_row][vc_column][vc_empty_space][/vc_column][/vc_row][vc_row][vc_column][vc_column_text]2017 Chinese New Year was supposed to be a season of celebrations, festivities, joy and bonding. But to some unfortunate families, it couldn't have started at a worse possible manner.
A tragedy that could have been avoided
On 28/01/2017, a catamaran ferrying 28 tourists alongside 3 crew members headed to Mengalum Island, Sabah was reported missing While many feared the worst, but if you ask some of the locals your typical response would be "Again-ah? Oh well…" If that doesn't strike a lil' fear down your spine, you've got to get yourself checked.
Fast forward to 05/02/2017, there were reports of 3 fatalities, 22 rescued tourists while 6 are still unaccounted for… and the finger pointing continues with the 2 main culprits being:
#1 Cowboy boat operators: Operators who disregard personal safety with eyes on making a quick buck. Sure, overcrowding a vessel is fine to them because the fewer trips they would have to make.
#2 Unscrupulous foreign tour agencies: Those who scout for the cheapest, or sometimes unlicensed local operators without proper due-diligence (unbeknownst to their guests) with a sole purpose to widen profit margins.
As if that wasn't enough…
There were also reports that the ill-fated catamaran has had its own set of issues over the tenure of its service as a RESEARCH vessel in Semporna. The catamaran was therefore never designed to be a passenger vessel, and definitely not built for the sea conditions which Mengalum Island presents. So why and how did the boat operator obtained the "permission" to ferry passengers? Assuming they obtained a legitimate "permission", we don't think they've got the right to overcrowd the vessel beyond its allowable capacity. And how did the local tour operator not know about this?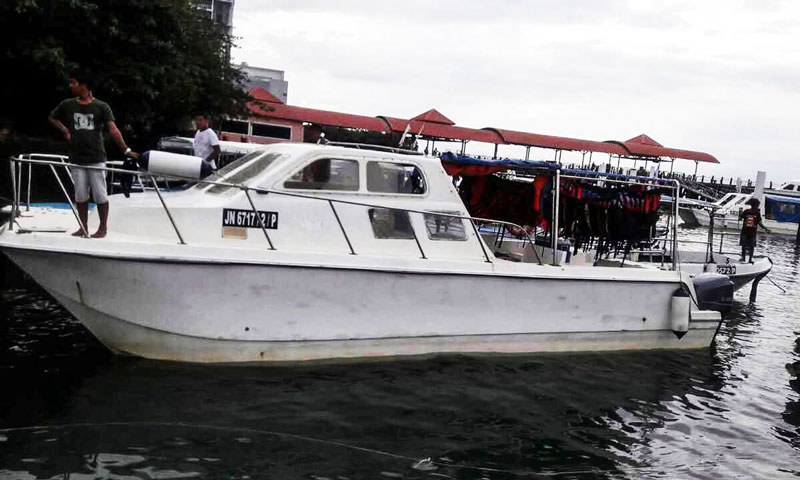 How do you accommodate 28 passengers with 3 crew members in a catamaran like this is beyond our guess. Image source: www.nst.com.my
To make matters worse, we have spoken to a few sources around Kota Kinabalu, and learned that this wasn't the first incident involving the said operator, and in fact this was its 3rd incident, which unfortunately resulted in fatalities because the catamaran's hull split into half only to be held by its roof structure. Oh, and they did not have a marine radio on board. Guess they didn't learn anything from the first 2 incidents, or they probably couldn't care less.
So what now?
Does this mean that tourists should steer clear of Sabah? Absolutely not. Rogue operators are everywhere globally whether we like it or not, and we shouldn't let a few bad apples deter us from having an amazing vacation. All we can do is be a little more vigilant:
#1: Go for licensed operators (this goes without saying). Prioritize safety over everything else. A little research goes a long way.
#2: If you're traveling on a budget, please don't compromise safety just to save a penny. Going cheap may potentially cost a life, which is irreplaceable. If it really doesn't fit your budget, walk away and seek alternative experiences.
#3: Trust your gut. If something doesn't feel right… walk away, find alternatives.
The above also applies to scuba diving activities, which is why we at ScubaHive strive to bring research to your fingertips whilst ensuring we have a trusted network of partners.
We really hope this unfortunate incident would be the last of its kind and the appropriate actions be taken in a steadfast manner. Our deepest sympathies go out to the lives lost and their families. May God give them peace that they seek.
[/vc_column_text][/vc_column][/vc_row]