[vc_row css=".vc_custom_1556941753124{margin-top: 30px !important;}"][vc_column width="5/12″][vc_column_text]Like us on Facebook to pimp your social feed[/vc_column_text][/vc_column][vc_column width="7/12″][vc_raw_html]JTNDaWZyYW1lJTIwc3JjJTNEJTIyaHR0cHMlM0ElMkYlMkZ3d3cuZmFjZWJvb2suY29tJTJGcGx1Z2lucyUyRmxpa2UucGhwJTNGaHJlZiUzRGh0dHBzJTI1M0ElMjUyRiUyNTJGd3d3LmZhY2Vib29rLmNvbSUyNTJGc2N1YmFoaXZlJTI1MkYlMjZ3aWR0aCUzRDQ1MCUyNmxheW91dCUzRHN0YW5kYXJkJTI2YWN0aW9uJTNEbGlrZSUyNnNpemUlM0RsYXJnZSUyNnNob3dfZmFjZXMlM0RmYWxzZSUyNnNoYXJlJTNEZmFsc2UlMjZoZWlnaHQlM0QzNSUyNmFwcElkJTNEMjE1MjMzMjg5MTUxNjg4NyUyMiUyMHdpZHRoJTNEJTIyNDUwJTIyJTIwaGVpZ2h0JTNEJTIyMzUlMjIlMjBzdHlsZSUzRCUyMmJvcmRlciUzQW5vbmUlM0JvdmVyZmxvdyUzQWhpZGRlbiUyMiUyMHNjcm9sbGluZyUzRCUyMm5vJTIyJTIwZnJhbWVib3JkZXIlM0QlMjIwJTIyJTIwYWxsb3dUcmFuc3BhcmVuY3klM0QlMjJ0cnVlJTIyJTIwYWxsb3clM0QlMjJlbmNyeXB0ZWQtbWVkaWElMjIlM0UlM0MlMkZpZnJhbWUlM0U=[/vc_raw_html][/vc_column][/vc_row][vc_row][vc_column][vc_column_text]
"No one is handicapped underwater… at the end of the day, we're all divers"
[/vc_column_text][/vc_column][/vc_row][vc_row][vc_column][vc_empty_space][/vc_column][/vc_row][vc_row][vc_column][vc_column_text]If the Paralympic Games could teach us one thing, it's that disabilities are not obstacles in life, rather challenges to overcome, and certainly do not mean that a disabled person cannot enjoy life and be active. Scuba diving is definitely no exception where the water is a great equalizer – whether one is paraplegic, quadriplegic, an amputee, or even battling cerebral palsy, scuba diving is a sport that can be enjoyed by all.
My Special Dive Buddy
On 09-Feb-2017, ScubaHive was invited over to ScubaG for an event – "My Special Dive Buddy" organized and sponsored by Zero Protocol Community, ND Divers, ScubaG, Tenggol Coral Beach Resort, PCG Group, with support from Cheras Rehabilitation Hospital – which gave the opportunity to a group of physically challenged individuals an opportunity to discover the joy of scuba diving and to alter perceptions.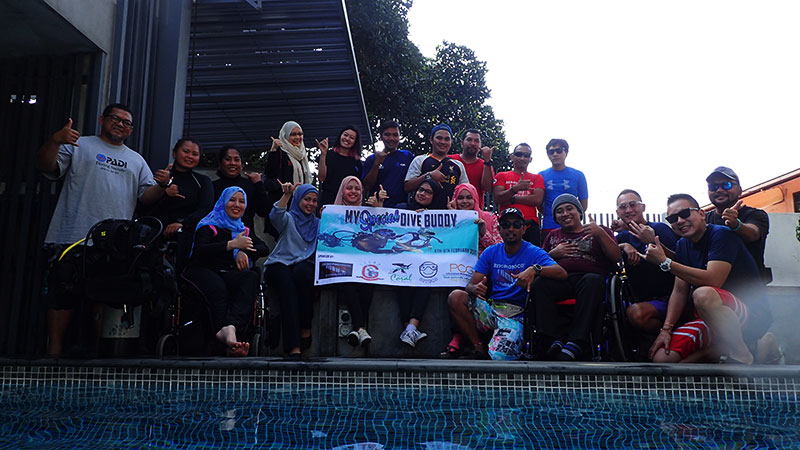 We had the chance to speak to one of the persons who spearheaded "My Special Dive Buddy", Captain Mohd Efenddy of Zero Protocol Community, whose passion and determination to open up scuba diving for all is truly admirable. He did not mince his words when he said "We don't care who you are, what your situation is… when we're underwater, we're divers… never dive alone, we help each other". This befittingly embodies Zero Protocol Community, a group formed by our Malaysian military assault divers with an aim to create an open community for all to participate in diving and non-diving related activities. Keep an eye on them as they've got big plans for the handicapped society. Follow them on FaceBook here.
But how do handicapped or physically challenge individuals be able to scuba dive?
Aha… the human mind is such a powerful tool that works in wondrous ways. As some will simplistically say "it's all mind over matter". Just so you know, a handicapped open water diver receives the same diving education and training that a physically-abled person undergoes.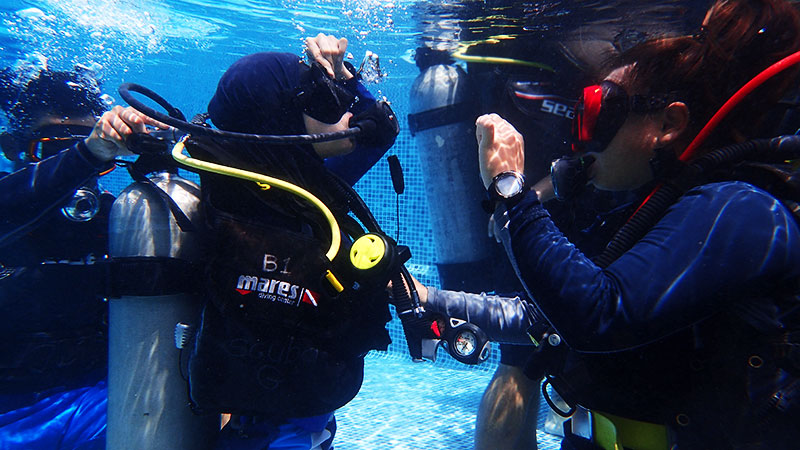 Some frequently asked questions:
Q: How do they stay neutrally buoyant underwater?
A: Pretty much like other divers, the control over breathing technique.
Q: How do they swim underwater?
A: With their mobile-limbs, be it arm(s) or leg(s), or sometimes assisted by their dive buddy(ies).
Q: How do they generally stay afloat on the surface?
A: With the buoyancy control device (BCD)
Lets not forget about the buddy system. Teamwork is vital, and the importance of a buddy system is amplified here. The dive buddy(ies) are there to fill in any gaps for the handicapped diver.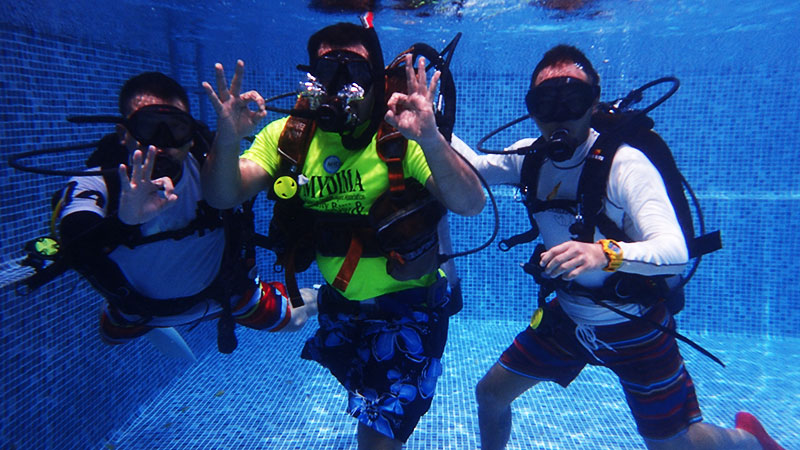 "When I lost my limbs, I felt so useless… distanced myself from society and slipped into depression. It took me 2 years before I ventured out into society again… and having to experience scuba diving is beyond what I ever imagined possible"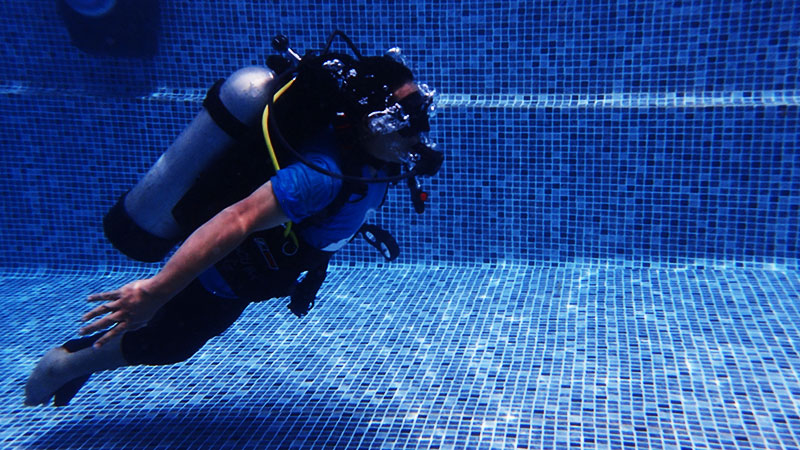 "I'm paralyzed from waist down… spinal injury… but I feel I can fly"
Scuba diving is an exhilarating experience. For handicapped individuals, it has added benefits… the sense of freedom, control and independence that one feels underwater, not to mention the eventual boost of confidence. All in all, removing barriers to social participation.
We know the sensational effects scuba diving has on our psyche, but really? Scuba therapy?
In other developed nations, scuba diving is also used as a mean of therapy (click here to read more on Diveheart.org's article) – the sport provides a unique environment with therapeutic characteristics that cannot be replicated on land. The weightlessness may alleviate physical pains and help patients exercise in a comfortable manner. Not to mention the mental and emotional benefits where patients may be able to focus, be more in control and feel a sense of achievement.
What lies ahead?
While the possibilities are encouraging, there are some societal and fundamental hurdles to conquer, such as:
Improving current facilities –

We don't mean specialized diving gears, in fact the scuba diving equipment used are generally the same. We mean developing handicap-accessible infrastructures (think: boat, jetty, resort, dive centre accesses).

Increasing exposure –

To boost awareness of such positive possibilities and opportunities. Who knew that disable diving is possible? Hey, scuba diving does not discriminate.

Enhancing education and training –

Similar to #2, this also applies to dive professionals to consider adding-on to their skills to work with handicapped divers that can help differentiate themselves from the rest, and also offer added value to the community which in itself is rewarding.
By and large, the water removes restrictions and fosters a common bond built on the love for the ocean and sense of adventure. Let's all do our part by creating awareness and helping out where we can. It's the collective small actions that make big things happen. Yeah!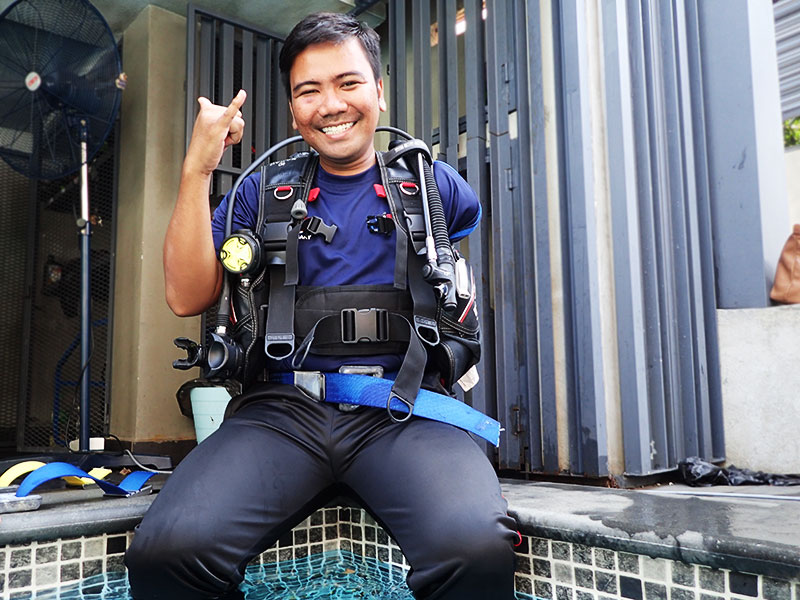 Addendum: "My Special Dive Buddy" is the brainchild of Captain Mohd Efenddy (Zero Protocol Community) and ND Murray (ND Divers), to whom were subsequently introduced to Gary Chan (PCG Group) and Marcus Tan (ScubaG / Tenggol Coral Beach Resort) who collectively made the event possible. The amazing thing is that the event was organized entirely via text messages with dive professionals later volunteered without hesitation. This perfectly shows the bond that the sea creates – divers from all walks of life putting their hearts together for a common cause. Simple gestures like this make us proud to be divers. There is so much we can do to impart some joy into the lives of others be it through small or large efforts. If there's a takeaway from this, it's that they have started the ball rolling and we should keep the momentum going! :)[/vc_column_text][/vc_column][/vc_row]